Connect Your First Device and Automate It
Vera provides you with a Device Wizard to make adding devices much easier. The Device Wizard provides step-by-step onscreen instructions to guide you through the process.
Connect your first device:
From Vera's Dashboard, go to Devices -> Add device

And select the device you wish to pair with Vera.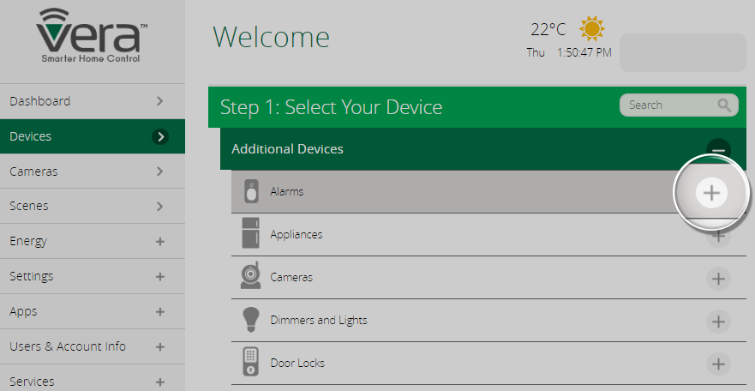 Make your first automation
To make sure the lights turn on automatically when people come home, you can create a Scene for sunset. We will guide you through the process to make a sunset Scene. You can create additional scenes using the same instructions with slight variations.
How to create your own "Automatic Lights At Sunset" Scene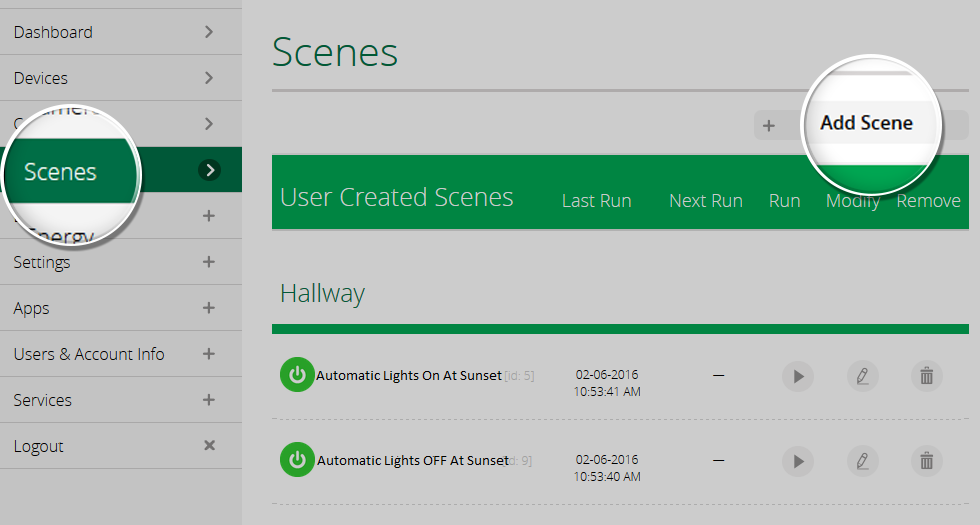 Select "Scenes" in the Vera Dashboard app
Select "Add Scene"
Choose "Schedule" as the type of trigger
Choose "Daily" as the interval
Choose "Before Sunset" as the trigger time
Click "Validate"
Click "Next Step"
Click "Select Devices"
Scroll down to select the devices that you want to trigger. Check the boxes on the right to select which light switches and dimmers you want to control the lights
Set the dimmers to turn to full and the switches to turn on (this is what you are setting them to do at sunset)
Click "Validate"
Click "Next Step"
Under "Finish the Scene," select which Modes you want the Scene to run in — home, away, vacation, and night (The default is all modes)
Under "Name Your Scene," fill in a name for the Scene, such as "Lights on at Sunset"
Click "Finish"
You're done! The Scene has been created. There's no need to test it; just check tomorrow at sunset to make sure the lights turn on.
Note: You might want to create a Scene to turn off the same lights later; For example, at sunrise. To create this scene, follow the steps from up above, except set the lights to turn off rather than on, and select sunrise rather than sunset as the trigger time.